source: Bernews.com
Team Independent Bermuda has reached the quarter-finals as the top seed at the Heart of Europe Debating Tournament in the Czech Republic.
A spokesperson said, "Genevieve Lau and Hailey O'Donnell of Bermuda High School and Kate Tobin of Somersfield Academy, comprising Team Independent Bermuda, have broken to the quarter-finals round at the 2019 the Heart of Europe Debating Tournament in first place as the team with the most wins [7 out of 8 debates], highest judges' ballots [21] and highest awarded speaker points [2023.5] of the tournament to this point.
"The Heart of Europe Debating Tournament is a global competition for high school debaters held annually in Olomouc, Czech Republic. Bermuda debaters have been competing in the tournament since 2014 and last year both entered teams broke into the octo-finals. Team Independent is the first Bermuda team to break at first place in the preliminary rounds in any international debate competition."
Photo courtesy of Jennie Lee O'Donnell: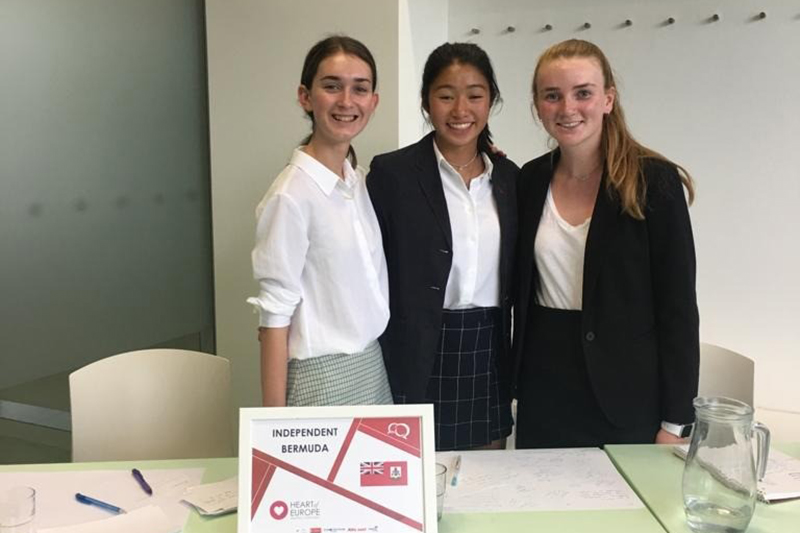 "Since Thursday, 22 teams from four continents have been debating motions in Worlds School Debate Championship format including whether the United Nations International Criminal Court should be disbanded and whether big data companies should go open source along with other impromptu motions on topics of education, ethics and European political issues.
"Lau, 15 along with O'Donnell and Tobin, both 16, formed the team to compete in June with coaching by Krystalle Tobin with assistance from Coy Millet, coach of the Bermuda National Debate team.
"Quarter finals and semi-finals for the Heart of Europe will commence Monday, July 15 and the competition will conclude with the Grand Final on Tuesday, July 16. The competition debates are streamed live on the Heart of Europe Debating Tournament Official Site Facebook page.
"Also competing in the competition are Dynamic Debaters, including Raina DeFontes, 15, and Christopher Jackson, 16, both enrolled at the Berkeley Institute and Bermuda College, with 15-year-old Salayah Stange from Bermuda High School with coaches, Kimberley Jackson and Gladstone Thompson, an adjudicator and the principal of St David's Primary School."